motion*s Dance Program Berlin
by motion*s | audition in May and June 2018
The motion*s Dance Program Berlin is a nine and a half months long intensive dance training course. As a student, you will be trained in a vast variety of dance styles from ballet, modern and contemporary to urban dance forms. You will deepen your knowledge of dance and practice new techniques whilst being encouraged to try out new styles and find a voice to express your creativity through dance. Alongside your personal physical development and an official certificate, you will, most importantly, take home a deeper connection to the beautiful art of dance.
// Where: motion*s Tanz,- und Bewegungsstudio, Prinzenstraße 85 B1, 10969 Berlin, Germany
// Course start: October 2018 – July 2019
// About the program
The nine-months intensive dance program is aimed at participants with previous dance experience who want to develop their abilities by practising a wide range of dance techniques. If you want to become a professional dancer, you will get a thorough insight into the opportunities as well as the challenges that this unique career path has to offer. This course also welcomes those who are not planning on working professionally, but who are looking to diversify their knowledge and deepen their experience in the art of movement. If you have the desire to make dance a central part of your everyday life, this is the program for you.
// More than just dance technique
In addition to jazz, contemporary, ballet and tribal dance techniques, this program also focuses on urban dance styles. Participants experience the multicultural language of dance and have the chance to develop a wide range of skills including body toning, physical endurance and flexibility. Students are also trained to rely on their own perception, expression and understanding of musicality. In turn, these practices strengthen the students' stage presence and allow them to experiment and enhance their artistic vision in improvisation as well as in creating choreographies.
// Individual support and coaching
The comprehensive physical training is complemented by theoretical lessons led by a team of professionals who provide a holistic insight into the life of a professional dancer. The program provides a supportive and safe environment within the dance community that allows participants to discover and build upon their own creativity and individual potential. This, of course, requires your own motivation and willingness for personal development.
// How to apply for the audition
Fill out our online registration form on motion*s homepage and participate in one of our 2 audition workshops in May and June 2018.
Detailed Info about the audition workshops you'll receive via mail after your application.
https://www.motionsberlin.de/en/motions-dance-program/
// Costs
380€ / month (including VAT)
3610€ in total for 9,5 months
// Contact us with any questions through:
[email protected]
motion*s Tanz,- und Bewegungsstudio
Stella Caric GmbH
Prinzenstraße 85 B1
10969 Berlin
For further information, please visit https://www.motionsberlin.de/en/motions-dance-program/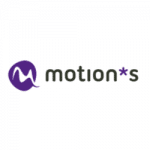 motion*s motion*s
With the opening of the motion * s in Aufbau Haus on Moritzplatz, the Berlin-based lecturer, choreographer and professional dancer Stella Caric has been realizing her concept of an innovative dance studio for people who are looking for a body that is ideal for movement and dance equipped with a wide range of courses and experienced qualified lecturers. More than 30 lecturers and staff make the motion * s an important address for dance in Berlin. So the motion * s of the dance scene in Berlin offers a very well-equipped studio with an appealing atmosphere for the strengthening of the dance culture.
Undogmatic, with a lot of respect and mindfulness, the dance-like development of the dancers is promoted and encouraged through the teaching of well-founded techniques and consolidated through regular training. The wide range of courses offers a weekly timetable for urban, modern, lyrical, contemporary and traditional dance as well as yoga classes.
For newcomers to professional dancers, there are courses suitable for everyone to meet challenges and healthy, conscious training.
visit profile
No Posts for this author.