Martial Partnering Intensive Workshop, PRAGUE, April 6-8
by The String of the Body | 6 to 8 April 2018
Workshop Martial Partnering Is a part of The String of The Body practice program.
The String of the Body program is an outcome of more than 20 years of practice and training within the vast platform of body work including gymnastics, sport and martial arts (such as judo, capoeira, jiu-jitsu, boxing), dance, theatre and body therapy. In our work, we constantly develop our experiences and deepen the creative process by conducting intensive research in communication, adaptation, presence, relation, identity, expression, potential and creativity. How that which is being acquired becomes embedded and a vital part of ourselves? How does the body become an embodied story of what is already known and of what is not yet discovered and understood in us? In the process of training, preserving certain necessities and adapting new data, we translate its meaning into the needs of the Human – the Warrior – the Performer.
Martial Partnering training is an intensive process embodied in form of a journey through the body centres such as spine, pelvic girdle, pectoral girdle, breath and senses. We will search for the natural rules of mobility, kinetics, statics, dynamics, balance and state of lost control. We will enhance the frequency of our mindfulness and presence. We will confront ourselves our limitations and face the group, the process of decision making, responsibility, safety and patterns of our body and psyche. We will work on our body weight. We will practice variety of body partnering: jumping, catching, lifting, rolling, falling, forces redirecting, centrifugal force, clinching, attraction, pushing, pulling. Obstacles and difficulties are our authentic teachers, which help us to understand the fundamental functionality and mechanism of the brain, receptive body via external incentives. We still learn, how to awake and invite fresh psycho physical state which allows us to communicate with diverse social dialog.
When:
6 April 2018 – 17:00 – 21:00
7- 8 April 2018 – 10:00 -13:00, lunch break , 15:00 – 18:00
Where: Studio ALTA (prostor pro tanec), U Výstaviště 21, Praha 7, 170 00
The workshop is designed for those who like to discover on the move efficiency, speech and discovery of oneself, joy, meaning and communication with themselves and their surroundings. Linking the principles of dance and martial arts to one intensive workshop. The presentation will be in English.
The organization of the event Is provider by o.s.Corridoor (www.Corridoor.cz) in collaboration with Novosad Jan.
LEADERS:
Jakub Gontarski
Graduated from Wrocław-based 13 Stunt School. Physical recreation instructor specializing in self defense ( AZF- AWF Wrocław). Certified personal trainer and movement coach under the legendary Steve Maxwell (USA). He initiated The String of the Body and Martial Partnering workshop dedicated to exploring expression, presence, dramaturgy and creativity in martial arts within the path of Human – Warrior – Performer. Jakub travels to Brazil, where he documents his expeditions and takes active part in candomblé rituals. He has co-created many performances, including Animan – I Am That and Madhouse, and performs movement improvisations on stage to live music. Jakub trained in martial arts – Japanese judo and Brazilian capoeira – for many years in Brazil and in many European countries. He studied under eminent movement practitioners in Poland and internationally among others: Judo( Gwardia Wrocław i AZS- AWF Wrocław):Wacław Nosek, Rafał Kubacki, Wiesław Błach, Zbigniew Zamęcki. Capoeira among others: Mestre Cobra Mansa, Mestre Marinaldo, Mestre Fuampa, prof. Macaco, Mestre Boca Rica, Mestre Curio,Mestre Moraes. Brazylisjkie Jiu Jitsu: Nilton Fereira ("Gracie Barra do Bonfim" Salvador Bahia), Jakub Janiak(23 Evolution Fight Academy). Boxing: Bombardier Club Wrocław (Piotr Szypulski), Maciej Zegan(Zegan Boxing Club) and Gwardia Wrocław (Mariusz Cieślak and Grzegorz Strugała). Dancing: Milan Kozanek and Zuna Kozankova, Yaniv Minzter, Iwona Olszowska, David Lorenc, Sebastian Flegiel, Jacek Owczarek, Witold Jurewicz, Jozef Frucek, Dança do Afro e Contemporanea (Orixás e suas Ressignificações) with Jaguaracy Santos Mojegbe and Katia Ferreira Ramos (Salvador, Bahia). Theatre workshops the Grotowski Institute (Teatr Zar). His inspirations are: motor control, body mechanics, processes of integration and adaptation. He collaborates with the Grotowski Institute as part of the BodyConstitution research programme. Jakub is a co-organiser of the Cyrkulacje Festival in Wrocław and the Planet Kids project. He is President of the Momentum Association of Creative Initiatives. He worked for the Krzyżowa Foundation for Mutual Understanding in Europe, running workshops and creating choreographies and performances with an international group of young people. He also runs workshops with socially excluded youth in Wrocław, including as part of Thought in Motion, a project of the Institute of Music and Dance. He taught movement classes at Ente private kindergarten (European Cooperation Centre). Jakub plays Afro-Brazilian instruments, and is the author of a poetry book, Śmierć i odrodzenie (Death and Rebirth).
Agnieszka Rybak
Teaches, moves and performs. She collaborates with the Grotowski Institute in the BodyConstitution research programme. Together with Jakub Gontarski, Agnieszka co-creates The String of the Body workshop. She has practiced capoeira for many years, including on an expedition in Brazil in 2008. She holds a scholarship of the Alternative Dance Academy in Poznań. Agnieszka graduated from the Academy of New Dance and Improvisation and completed a number of instructor courses in the fields of therapy, dance and movement. She hones her skills in Poland and abroad. She is a practitioner and teacher of a Hawaiian bodywork method and a practitioner of the Life Impression Bodywork method and of Thai Yoga Massage Sacred Dance of the Sunshine House School in Chiang Mai. She is a member of ECITE (European Contact Improvisation Teachers Exchange) as well as an initiator of Wrocław's contact improvisation milieu and co-creator of the Cyrkulacje Festival and Planet Kids project.
REGISTRATION:
email: [email protected]
registration to 6 March 2018 – contribution 140 EUR
registration from 7 March 2018 – contribution 164 EUR
After confirmation of registration is received whole amount .You will receive the payment details by mail after submitting your registration.
Minumum participants: 12
Maximum participants: 25
To have a better idea what is Jakub and Aga´s work about visit the links below:
Videos:
https://www.youtube.com/channel/UCOw0dPhtztwspdzqMsswxKw/videos
FB page:
https://web.facebook.com/thestringofthebody/
See you and all best:-)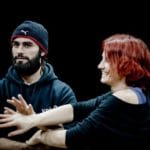 The String of the Body
Training and practice in themselves define and redefine what has been acquired and what is being acquired.
The perspective of the human - practitioner, the performative aspects of martial arts, sport, challenge, sources of performativity stage, contributing to dialogue and training tools.
The programme is the outcome of more than 15 years of practice within an extended platform of body work including gymnastics, sport, martial arts, dance, theatre and body therapy. In our work, we constantly develop our experiences and deepen the creative process by conducting intensive research in communication, adaptation, presence, relation, expression, potential and creativity.
visit profile
No Posts for this author.