NUO Spiritual Dance training program for professional dancers
by Nuo Spiritual Dance | audition November 19th 2017
NUO Spiritual Dance offers a training program for professional dancers with a final project to be premiered in 2019


Dancers joining NUO Spiritual Dance become trainees in the art of Spiritual Dance. For a monthly fee of $320, dancers will receive about 20 hours of training, to take place over three weekdays, with the company each week toward mastery of the spiritual dance craft. In addition to 20 hours of training each week, dancers will receive the unique opportunity to perform with NUO Spiritual Dance on stages throughout the world, and receive the prestigious Council of International Dance (CID) certification awarded by the United Nations after a successful completion of 150 hours of training.
The essential difference between NUO Spiritual Dance and any other dance schools or companies is that every dancer who joins us will become a first generation Spiritual Dancer. The future of each of these individuals includes not only performing on various international stages, but also carrying on this art form and through it, reaching as many people and dancers as possible. During the training, ballet, modern and contemporary dance classes will be led by international master-teachers, and the Spiritual Dance technique will be introduced by the founder Nuo An. Dancers will explore and experience both body and mind, inside and outside, soul and brain in collaboration.
The rehearsal process progresses gradually, and it is more about the creation of a cohesive ensemble rather than movement repetition.
NUO Spiritual Dance company is a big family welcoming all dancers who are interested in and enthusiastic about learning this new dance form. We provide the training, the performing opportunities and the long-term employment possibilities, such as NUO Spiritual Dance members, Spiritual Dance teachers, Spiritual Dance outreach organizer, etc. Any Spiritual Dance artist incubated in this family will always have our collaboration and support.
A short explanation about the fee:
1. As we know, dancers keep themselves trained through public open classes. We are trying to save their time and energy by bringing the masters to our studio. Also as a courtesy, we lowered the commercial rate to half and cover the other half with our Foundation's fund.
2. NUO Spiritual Dance has been incubated through a long and rich process. To master its core, dancers would need to give themselves to the intellectual and movement courses with openness and commitment. The fee, in part, contributes to this particular learning and training. 
 

Dancers who wish to audition should have a solid dance foundation and be a minimum of 18 years old. We are looking for individuals who are disciplined, self-motivated, and respectful of different cultures and arts.


The program will be starting after the audition process is completed.
When: Audition to be held Sunday, November 19th 2017 at 10:30am.
Where: Audition location and additional details will be provided in a confirmation email after submission of materials.


To apply: please send a resume to [email protected]. The following should be included: 
Name, Age, Training, Basic experience, Photo, Contact information, Video (if possible).
 

Please be aware that, as of today, we can work only with US citizens, permanent residents and working visa holders.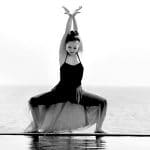 Nuo Spiritual Art Foundation
Founded in 2017 by acclaimed Chinese born dancer and choreographer Nuo An, the Nuo Spiritual Art Foundation (NSAF) is a New York City based not-for-profit member of the United Nations' Council of International Dance (CID), with a mission to promote and present the spiritual dance form. Originating in China, spiritual dance integrates principles of ballet, modern dance and dance therapy into a new art form that promotes an exploration of both body and mind, and an intensive cooperation among all participants. At its core, our work is a quest toward art and creativity that connects all of life.
visit profile
No Posts for this author.