Movement as the Starting Point Workshop
by Fool's Cap Theatre | from 4th to 5th November 2017
Open to dancers, actors, choreographers and contemporary circus performers with professional and semi-professional stage experience, who are interested in exploring movement as a bold, vibrant and multidimensional approach to devising and creating.
In Paris:
4th and 5th de November
10h – 17h
Where: Studio Bleu (32 rue du Capitaine Marchal 75020 Paris) METRO GAMBETTA
Fee: 85€
LE MOUVEMENT COMME POINT DE DÉPART
This workshop explores movement as the starting point for devising and creating. Departing from a series of concepts based on the world of Decroux's corporeal mime, participants will play with concepts such as rhythm, articulation and weight to build up tension between bodies and in space, work on presence, complicity, suspension and a concrete way of creating metaphors through the body. We will play at the intersection between dance, theatre and mime.
This workshop has previously been taught at Liverpool Physical Fest, East 15 Acting School, The Drama School Mumbai, Eastbourne House Arts and at Micadanses.
Vini Carvalho is the artistic director of Fool's Cap Theatre. He works internationally as a performer, mime, choreographer and movement practitioner. His works have been presented in Europe, India, Brazil and USA. He trained in corporeal mime with Theatre de l'Ange Fou, after a bachelor degree in physical theatre. Vini has a profound interest in investigating the physicality on stage and he has always been working in collaboration and ensemble. Credits: The Unparalleled Adventure of One Hams Pfaall (Fool's Cap Theatre); Waiting for Ulysses and a Promethean Dream (Theatre de l'Ange Fou); O Caderno da Morte (Cia Zero Zero) among others.
www.foolscaptheare.com/training
@FoolsCap_T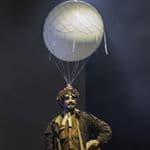 Fool's Cap Theatre
Fool's Cap's work is marked by visually striking images and physicality. The creative process focuses on the actor and on his physical relationship with the other elements on stage such as set, costumes, lights, music, projection. The result is the creation of an imaginary landscape that moves and transforms the space. Exploring major themes of human nature such as life, death, spirituality, perseverance and love, the story becomes as touching as it is comical, as simple as it is complex.
No Posts for this author.