M.A.D. mind and dance – audition for three year education program
by M.A.D mind and dance | Saturday 10 February 2018. 10am
M.A.D. is looking for young people who are interested in exploring the world of performing arts. Our three year program builds a foundation for working on stage or as a teacher of contemporary dance and/or ballet.
The prices are 320€ per month for the stage performing course and 400€ for the teachers certificate.
Where: The audition will take place at the Gleißbühlstraße 12, DE-90202 Nürnberg.
Start of audition is at 10am.
When: Saturday 10 February 2018.
To Apply: For information and application please visit : http://mindanddance.com or write an email: [email protected]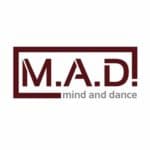 M.A.D mind and dance
The school stands for a high-level dancers' education, which gives each student the opportunity to develop into an individual and creative (dancer) personality. In addition to our professional vocational training and pre-vocational training, we see it as our responsibility to play an active role in the region's culturoses through workshops and performances.
Founded in 1991 as Raymund Maurin's Ballettförderzentrum Nürnberg eV (since then honorary first board), the school has developed over the past 25 years to a highly regional training center for dance talent.
visit profile
No Posts for this author.